The Cabaret Voltaire will be brought to Hong Kong in form of a tent called "Dada on Tour". The tent itself is another space, a mobile museum visiting communities, giving and taking, collecting, archiving. "Dada on Tour" will set up in different locations in Hong Kong visiting communities. It is originally a rescue tent with the size 5m x 4.4m x 2.5m and shows a 3- channel videorprojecton inside the tent. It can host pace for approximately 20 people. "Dada on Tour" will be wandering around like POLYTROPOS, changing by collecting stories, datas, information, by mapping specific ideas, by exchanging ideas etc.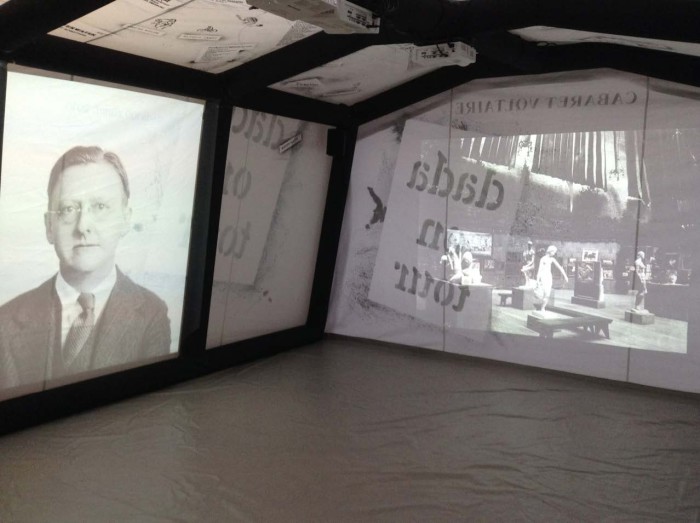 "Dada on Tour" is:
1.    a temporary research base for the aestetic urban research of the scouts,
2.    a place that welcomes the inhabitans of the community, the district to learn about Dada and Zurich, to watch the exhibition inside,
3.    a temporary event space for invited guests, who will deal with the district, the content of the tent and contribute to the thematic scope of POLYTROPOS.
Program in Hong Kong June 2014
POLYTROPOS went to the following places from 16.06. – 26.06.2014.
The idea behind the locations is quite simple: POLYTROPOS is looking for generic spaces. While building up the tent at each location, the scouts will swarm out with flyers and promote the spatio-temporary event. Then there will be a welcoming and presentations by the guests while the scouts swarm out for research into the districts around the tent.
Mon 16.06.2014
"Dada on Tour" at Connecting Space Hong Kong, Wah Kin Mansion, 18-20 Fort Street, North Point
Preparation for POLYTROPOS: Participant Observation at Fortune Tellers in Temple Street
Departure from Connecting Space: 6 pm
Who: All Scouts
Guided by: Hayat Erdogan & Adrian Notz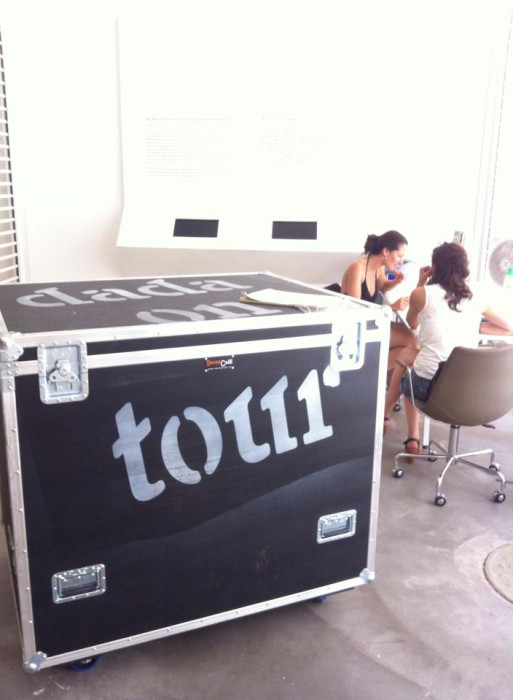 Tue 17.06.2014
Kick-Off and Opening at Connecting Space, North Point
Time: 4 to 8 pm
Program:
4 to 5 pm Instruction of Scouts and Set-up Tent
5 to 7 pm Presentation of the Project: Hayat Erdogan, Adrian Notz and MAP Office, Guest: Jens Badura (via Tunnel)
7 to 8 pm Performance by Sascia Pellegrini
Wed 18.06.2014
Location 1: High Island (Reclamation Grass Cow Astrology), Sai Kung Country Park
Departure from Connecting Space: 10 am
Time: 10 am to 7 pm
Program:
11.30 am to 12.30 pm Instruction of Scouts and Set-up Tent
12.30 to 1.30 pm Picnic
1.30 to 5 pm Mapping High Island
Optional: Swim around the island
Thu 19.06.2014
Location 2: Spring 3/F Remex Centre, 42 Wong Chuk Hang Road, Aberdeen, Hong Kong
Departure from Connecting Space: 2 pm
Time: 2 to 9 pm
Program:
2.30 to 3.30 pm Instruction of Scouts and Set-up Tent
3.30 to 6 pm Mapping the district
7 pm Introduction & Welcoming by Hayat Erdogan and Adrian Notz
7.30 pm Opening of Mobile MuseumFri 20.06.2014
Location 3: Temple Street (Night market)
Departure from Connecting Space: 4 pm
Time: 4 to 10 pm
Program:
4.30 to 5.30 pm Instruction of Scouts and Set-up Tent
5.30 to 8 pm Mapping Temple Street
8 to 10 pm Karaoke Event with guest: Sascia Pellegrini
Sat 21.06.2014
"Dada on Tour" at Connecting Spaces, North Point
Recollection with Scouts, Hayat Erdogan, Adrian Notz and Jens Badura (via Tunnel)
Time: 4 to 7 pm
Sun 22.06.2014
Location 5: HSBC / Central CBD (Filipino Community)
Departure from Connecting Space: 9 am
Time: 9 am to 6 pm
Program:
9.30 am Instruction of Scouts and Set-up Tent
10 am to 6 pm Mapping HSBC and the Filipino Community
Guests: Filipino Community & Erwin Lüthi
Mon 23.06.2014
Location 6: Chai Wan – Port
Departure from Connecting Space: 4 pm
Time: 4 to 10 pm
Program:
4.30 pm Instruction of Scouts and Set-up Tent
5 to 7 pm Mapping Chai Wan
7 to 9 pm BBQ in the Port (or in Turtle Cove Beach)
Tue 24.06.2014
Location 7: Lau Fau Shan (Oyster Field)
Departure from Connecting Space: 10 am
Time: 10 am to 6 pm
Program:
11.30 am to 12.30 pm Instruction of Scouts and Set-up Tent
12.30 to 1.30 pm Picnic
1.30 to 4 pm Mapping Lau Fau Shan
Wed 25.06.2014
Location 8: West Kowloon Cultural District M+
Departure from Connecting Space: 2 pm
Time: 2 to 7 pm
Program:
2.30 to 3 pm Instruction of Scouts and Set-up Tent
3 to 5 pm Mapping West Kowloon
5 to 7 pm Discussion with M+ and drinks
7 pm Diner with everyone
Thu 26.06.2014
Location 9: Jungle – Wanchai Gap
Departure from Connecting Space: 9 am
Time: 9 am to 2 pm
Program:
9.30 to 10 am Instruction of Scouts and Set-up Tent
10 am to 12 pm Mapping Jungle